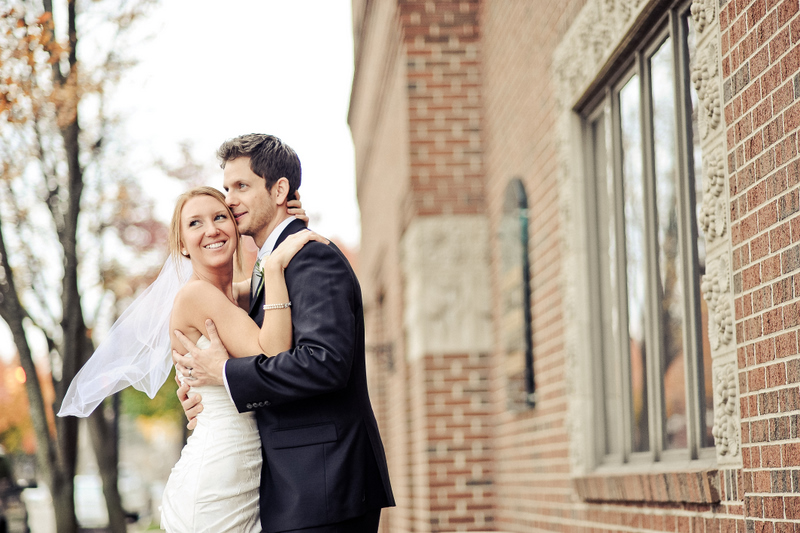 Right after Dennis and Cherry's wedding on 11-11-11, I took off for the airport and jumped on my red eye flight to Michigan to photograph Rachael and Jeremy the next day.  My newborn baby at this point was about 3 months old and did not sleep well at night, so I was super excited to actually get like 8 hours of sleep on a red eye to Michigan, unfortunately, I totally forgot about the layover and of course that Michigan's time was ahead of Seattle's and throw in a crying baby about 2 rows behind me, I ended up sleeping about 3 hours altogether that night.  Once I arrived at to Grand Rapids, Elida, who helped me shoot the wedding, picked me up from the airport and we headed off to Holland, MI to photograph Jeremy + Rachael.
It was definitely a change in weather, I had left the rains of Seattle and landed in a very beautiful autumn day in Michigan.  We began the morning getting ready at Ze Manor and their ceremony and reception was held at The Alpenrose in downtown Holland.  After a very very fun and memorable evening, the next day we headed out to a few of Rachael's favorite spots in downtown Holland and eventually made our way to the famous landmark, the Big Red Lighthouse.  We photographed until I had to go to catch my flight back to Sea-town!  Thanks for such a memorable weekend you two and I really enjoyed getting to know your family, your wedding party, and many of your friends!  Congratulations.
Thanks for checking out my work.  For updates and specials like us on FACEBOOK.  Cheers!