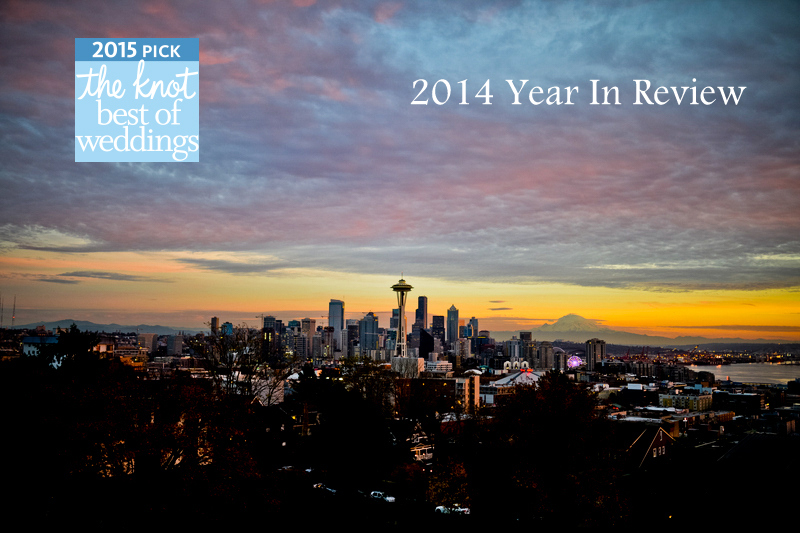 2014 was probably one of the busiest years I've had in a long time.  With 38 weddings photographed this year, it was amazing to get to know all of you.  I didn't travel as much as I have in years past but when I did travel it was to amazing places with some amazing couples.  Highlights include: San Francisco, Phoenix, the Mayan Riviera, Mexico, Minneapolis, Malibu, Orange County, as well as the Vineyards in Eastern WA and a few times to Oregon.  I've photographed in the Seattle Area now for 11 years and have been behind the camera at over 300 weddings and it's amazing to see that there is still so many places I haven't been to yet here in Washington.  Many of my bride and grooms were friends and family of past years brides and grooms and it's always such a pleasure to see familiar faces attending the weddings that I'm photographing.
Another highlight to the year is how some images can go viral as in the case of Chi's Wedding Dress (she crocheted her dress!) and the guys at Daniel and Selina's wedding watching the Seahawks game instead of the ceremony.  Going through the blog for 2014, these past few days really gave me chance to relive all of your wedding days.  Thanks so much for trusting me to photograph your special moments.  It is truly special.
I know I can't be a photographer forever, but over the past 10 years I'm grateful for God's Grace, not only to get to meet and know many of you, as your photographer, but also for helping me take the images.  The only thing I can do is click the button, I'm not in charge of the weather, if it rains, of the beautiful sunrises and sunsets, nor am I able to make sure that I'm at the right place at the right time with the right settings and the right lens.  It takes way more than me.  I'm truly in awe that I get to do what I do.
Oh Yes one more thing Go Hawks!